Adult Education
Busy yourself as much as possible with the study of the divine things, not to know them merely, but to do them; and when you close the book, look around you, look within you, to see if your hand can translate into deed something you have learned. - Moses of Evreux

In seeking wisdom the first step is silence,
The second: listening,
The third: remembering,
The fourth: practicing,
The fifth: teaching others.
- Ibn Gabirol
Upcoming in Adult Education
All Events
Sunday

,

Oct

October

1

,

2023

Adult Hebrew


Sunday, Oct 1st

5:00p

to

7:00p




Join Elizabeth Moore to learn Hebrew in this class for adults.

Tuesday

,

Oct

October

3

,

2023

CBE Book Club


Tuesday, Oct 3rd

7:00p

to

8:00p




Join us for a discussion about CBE's book of the month!
Adult Hebrew
SHALOM!
Feeling rusty? Never learned but want to? Just curious?
Our new adult Hebrew program is geared toward those interested in gaining comfort, familiarity and potentially fluency in the Hebrew language and liturgy.
Explore modern conversational Hebrew and develop decoding text and prayer skills, this class meets Sundays in person and via Zoom 5-6PM. All levels welcome. (If enough people are at an intermediate level, we may have two classes!)
Register here to learn with CBE member Elizabeth Moore. Class fee is $54.00; the book is $28. Try it for FREE on June 5; classes start June 25. See CBE calendar for specific dates.
Mussar
Meets year-round [almost] every Thursday, 1PM – 2:30 PM at CBE.
What is Mussar? Mussar is a traditional Jewish ethical-spiritual discipline that is in the process of being rediscovered in our time. The method guides us in bringing positive virtues or 'soul traits' to bear in our daily lives. This class has had on-going, enthusiastic attendance since 2008. Each session is divided into two parts. In the first hour, we combine text study, lecture and discussion around a particular midah [soul-trait], such as compassion, humility, joy, silence, honor, patience or gratitude. The second part of the class is devoted to supporting one another as one person volunteers to share a personal challenge or situation that they would like to approach from a mussar perspective. This class prompts curiosity about the attributes of divinity while offering insight into the human psyche, practical guidance for daily living and growing our moral-spiritual selves, and especially mutual support and friendship. Come and see why this class has attracted such a devoted following. And if you cannot make the midday time-slot, get on the e-mail list to receive weekly teachings to support your on-going study and practice.
CBE Book Club
December: The 1619 Project by Nikole Hannah-Jones. The 1619 Project is an ongoing initiative from The New York Times Magazine that began in August 2019, the 400th anniversary of the beginning of American slavery. It aims to reframe the country's history by placing the consequences of slavery and the contributions of Black Americans at the very center of our national narrative. It is led by Pulitzer Prize–winning journalist Nikole Hannah-Jones, along with New York Times editor-in-chief Jake Silverstein and New York Times Magazine editors Ilena Silverman and Caitlin Roper.
February: The Only Woman In The Room: Golda Meir and Her Path to Power by Pnina Lahav. In this authoritative and empathetic biography, Pnina Lahav reexamines the life of Golda Meir (1898–1978) through a feminist lens, focusing on her recurring role as a woman standing alone among men. The Only Woman in the Room is the first book to contend with Meir's full identity as a woman, Jew, Zionist leader, and one of the founders of Israel, providing a richer portrait of her persona and legacy.
April: The Exodus by Richard Elliott Friedman. Like a detective on an intricate case no one has yet solved, Richard Elliott Friedman cuts through the noise — the serious studies and the wild theories — merging new findings with new insight. From a spectrum of disciplines, state-of-the-art archeological breakthroughs, and fresh discoveries within scripture, he brings real evidence of a historical basis for the exodus — the history behind the story. The biblical account of millions fleeing Egypt may be an exaggeration, but the exodus itself is not a myth.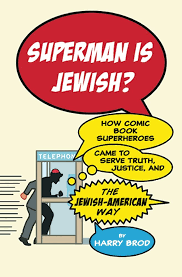 June: Superman is Jewish by Harry Brod. Many of us know that the superheroes at the heart of the American comic book industry were created by Jews. But you'd be surprised to learn how much these beloved characters were shaped by the cultural and religious traditions of their makers. Superman Is Jewish? follows the "people of the book" as they become the people of the comic book.
August: The Weight of Ink by Rachel Kadish. Set in London of the 1660s and of the early twenty-first century, The Weight of Ink is the interwoven tale of two women of remarkable intellect: Ester Velasquez, an emigrant from Amsterdam who is permitted to scribe for a blind rabbi, just before the plague hits the city; and Helen Watt, an ailing historian with a love of Jewish history.

When Helen is summoned by a former student to view a cache of newly discovered seventeenth-century Jewish documents, she enlists the help of Aaron Levy, an American graduate student as impatient as he is charming, and embarks on one last project: to determine the identity of the documents' scribe, the elusive "Aleph."
Taboo Topics Series
June 7, GUN VIOLENCE: The right to life implies a right of self-defense. Where do we find limiting principles when political tensions arise between those who assert unlimited rights to keep and bear weapons capable of annihilating en masse the lives of children in schools, shoppers, theater goers, worshippers, night club gatherers, and workers in their places of employment - to name only a few. The victims are so vast we can not name them, only the places of devastation: Columbine, Aurora, Boulder, Uvalde, Sandy Hook, Las Vegas, Covenant School, Highland Park, Buffalo, Dayton. Is that the actual sacrifice that the abstract concept of self-defense ought to allow? If so, why; if not, then how do we construct a healthier balance?
March 1, HUMAN COMPOSTING: Daniel Ziskin will discuss end-of-life options with a focus on the newer services of Body Composting and Water Cremation. Together, we will examine these alternatives from several perspectives, including Judaism, state law, ecologically and national trends. This talk will be uplifting and suitable for a general audience but Daniel will be prepared to answer any questions if that's where Congregation Beth Evergreen wants to go.
January 4, CHEVRA KADISHA: "DON'T PANIC." (With apologies to Doug Adams in The Hitchhiker's Guide to the Galaxy.) Many of us, perhaps most of us, are uneasy when confronted with death. In addition to our feelings of loss, we may cringe from the physical evidence of the body that has been so recently vacated. That which was familiar in life becomes foreign in death. Despite this natural avoidance, we want to honor the spirit of the departed and do so within our Jewish traditions. But how do we do so? How do we operate on this level? And this is where we turn to the Hevra Kaddisha, the sacred society whose function is to care for the body of the deceased from death until burial.
December 7, DYING WITH DIGNITY: Cindy Kaufman will discuss how end-of-life doulas, also called death doulas, provide non-medical support and care for the dying person and their loved ones through one of the most meaningful and difficult transitions in life – dying and death.
Sun, September 24 2023
9 Tishrei 5784
Sun, September 24 2023 9 Tishrei 5784